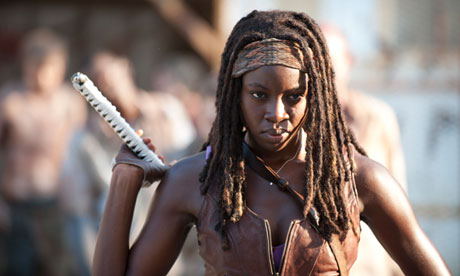 "I'm a freaking surgeon with this katana."
This week's episode of The Walking Dead ("Hounded") was great. The show opens with a group of men looking for Michonne, who was, in turn, hunting them. She leaves a message to ward them off. Said message was the mutilated body of a zombie arranged to spell out the words "Go Back." Mofos didn't heed the warning and got jacked up, sushi style.
Michonne comes out swinging, literally, and dispatches two of the redshirts sent to catch her (the reasons why elude me, but they can't be good). The hunt continues, and Michonne makes a valuable discovery during her next skirmish with the two remaining males.
As was not the case with Queen Vanessa Williams &
666 Park Avenue
(
now cancelled
), Michonne's screen time has increased (a little) and her scenes pack a punch even though she rarely speaks. She figures out a way to walk among the zombies without getting attacked and manages to find her way to Rick's group and relative safety. I hope her arrival at the prison means that she will actually get to have a conversation and exhibit facial expressions that aren't limited to scowling. I am looking forward to next week's ep.