From our sisters at
For Harriet
:
In yet another example of white feminist cluelessness, Singer Ani DiFranco will hold her annual songwriting retreat this year on Nottoway Plantation in Louisiana. Righteous Retreat Song Camp is billed as a feminist songwriting retreat, and DiFranco's choice to hold the event at this locale has drawn ire from Black women who note the offensiveness of the location.

Black women feminists and allies took to the event's Facebook page to express their concerns, yet neither Difranco nor anyone on her team has responded.

The thought of women choosing to luxuriate at the sites of historic brutality against black bodies confounds, but even more outrageous is the refusal of so many women to listen to those whose lived experiences continue to be mediated by the legacy of chattel slavery.

In fact, defenders like Mandi Harrington, a visibly white woman, try to tell us that we need to "reclaim" these spaces.

And when called out, these women go to shockingly extreme lengths to cover their tracks.

Take, for example, the exchange below. Harrington created a fake black woman persona named Laqueeta Jones to defend her senseless comments.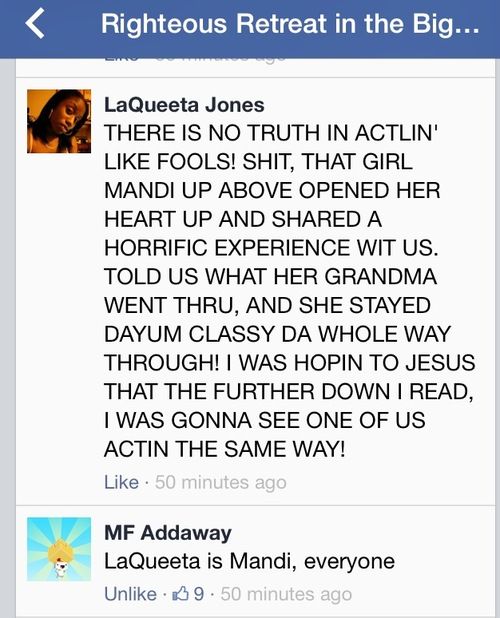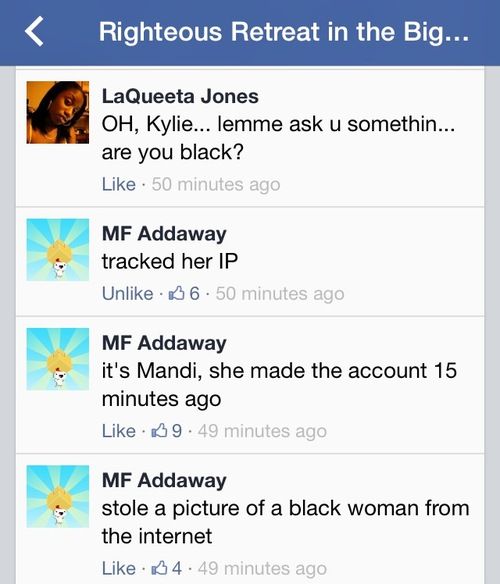 *dead*